The Subaru National Technician Competition is a biennial event hosted in New Jersey. The event is Subaru's way of recognizing excellence among their technicians through a friendly competition. Subaru leadership "bugged" the cars and tools and timed the technician on troubleshooting complex issues to see which of the battle hardened techs could adapt and prevail!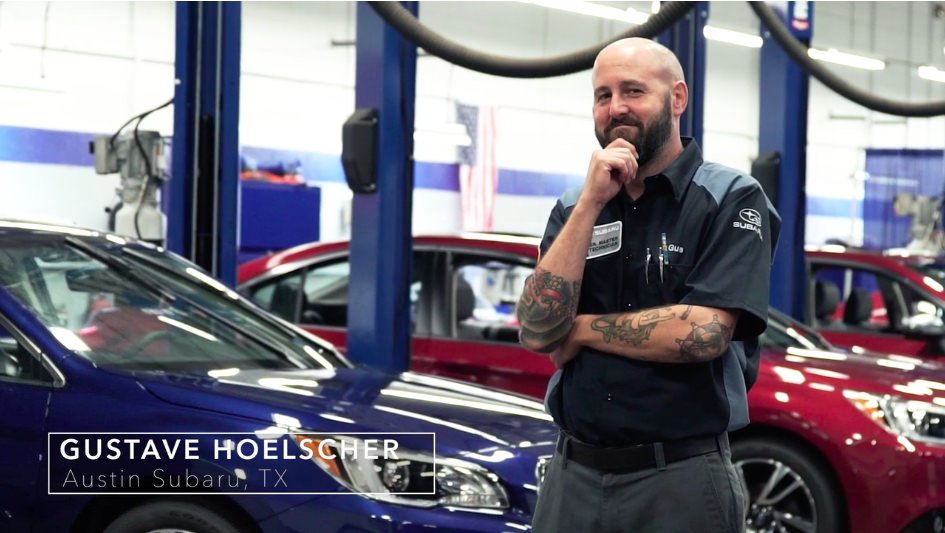 Video City Productions was asked to film this four-day event, and to create a video highlighting the technicians, their work, and their commitment to Subaru's Love Promise.
Seems straightforward, right? Well, the project came with one caveat: the event began on a Monday and the final cut (a 12-minute recap video) was due to be premiered at the Thursday night closing ceremonies.. Yeh we had 4 days to film and edit EVERYTHING.
Throughout the competition, we filmed footage of the events, interviews with the technicians, and highlights from the Thursday team building events including a Pit Crew challenge that pitted (pun intended) the techs against Subaru executives.
Since we didn't know who would win the competition, we had to make sure that each interview was in-depth and personal, and that we had adequate broll (or detail shots) of each technician.
In any film we produce we try to pull the thread on any unique story lines that might add additional connection or interest to the characters. At the Subaru National Technician Challenge, two of the contestants knew each other previously, with one having mentored the other. As each technician was interviewed, we noticed some similarities between their stories and a very popular Sci-Fi movie, and were able to incorporate the reference along with their back story. May the force be with you 🙂
One Event, Four videos. Collaboration, same day editing, and storytelling.
To bring a project like this together, we had to put in a lot of time collaborating with the Subaru's Service Marketing Team and Service Technology Team. Together we were able to work out the logistics of the four-day event, understand the timing, what was happening in each challenge, and how best to capture the content. This allowed us to plan out time lapses, detail shots, and certain gimbal movements. You can't plan everything in a live event setting, but having goals and defined shots allowed our shooters to have more time to think creatively. We also discussed the messaging opportunities from the competition; working together to figure out the best ways to organically incorporate Subaru's Love Promise into the finished product.
Now for the happy ending: we completed the 12-minute video and got great feedback. The technicians were really excited to see themselves on the big screen and we were able to get the files transferred onto flash drives as a giveaway too!
After the event we collaborated with the Subaru team to make a 15-second "music video montage", and even a two-minute highlight video to be played on social media and in service areas across the country. We all know content is king and a challenge for most organizations to curate quality, relevant content for their brand. Repurposing content from a shoot scales costs and provides an instant opportunity to expand on much needed content.
Congratulations to the Subaru National Technician Competition champions, and to everyone who participated!
Take a look at the finished products:
At under two minutes, this video encapsulates the goal of the competition, highlights Subaru's focus on The Love Promise, andworks as a video that can be played on a loop in service area waiting rooms and showrooms. There are a lot of stats that point to the value of keeping videos under 2 minutes and that played a big part in how we chose to construct this cut down version.
In a world dominated by social media, brevity is king. Viewers are bombarded with a ton of content which is why longer videos typically get less views. For years teasers were used to draw people to the movie theater to watch a feature, and these days it's no different. By creating a 15 second piece for instagram, you can garner attention and create a call to action to draw viewers to the longer piece by giving them a "taste" of what's to come. We expected that two minute highlight reel would get a handful of clicks and the 12-minute feature video might go virtually untouched without a 16-second "Music Video Montage" that would boost views, highlight the event, and advertise the brand.
Have a project with unique requirements?
Contact us today and let's map out a plan to execute it properly.